What is Magento?
Nowadays, Magento is the most popular source for online website but the fact is not all the people know the definition of Magento.  Magento is one of the most popular e-commerce platforms on the market because it is free,
stable, and offers a lot of functionalities. A lot of e-commerce websites are built with Magento. Developing in Magento is not as easy as you would expect. When you want to start with Magento, a good guide that shows you the best practices will be very helpful while learning Magento development, and that is what this definition has set out to do. Why dont you start code some themes and extension to sell online on Magento connect ? It is so easy with our free course: 
Read Magento 2 news: Magento 2 news
To learn about creating and congifgure Magento themes follow our channel: Magento theme tutorial
Beside, Magento extension tutorial channel is so useful for who want be create and sell Magento module too.
So  what is Magento ?
Recommend: Already know about Magento? Let's install Magento now:   How to install Magento on Local host – XAMPP
1. Who is Magento's inventor?
Magento is a very powerful and fast growing e-commerce script, created by Varien. Varien is a private company which has headquarter in Culver, California, United State. This is a very special company because all of its staff are volunteers, if you are a Magento developer, you can apply for an opportunity to work for them. Varien launched the first general-availability version of the software on March 31, 2008, with the name Bento. After that, the former CEO of Varien, Roy Rubin, sold a substantial share of the company to eBay. And now, Ebay become the sole owner of Magento.
2. What is Magento in technical definition?
It is an open-source platform using Zend PHP and MySQL databases. Magento could offers great flexibility through its modular architecture, is completely Scalable and has a wide range of control options that its users appreciate. It applies the conventions of object-oriented programming and model-view-controller architecture. Magento also uses the entity–attribute–value model to store data So, now you have already had a simple question for What is magento.
3. What about Magento development history?
Magento development officially started in January, 2007 by ANJAN. On August 31, 2007, seven months after that,  the first beta version was released to public. Varien, the company owning Magento in this time, formerly worked with osCommerce. It had originally planned to fork osCommerce but later decided to rewrite it as Bento. However, there was a naming conflict with FileMaker Inc. This company had already trademarked the name Bento 3 years before, Varien and osCommerce decided to renamed Bento to Magento, a mix name of Bento and Mage. The term Mage is said to pay homage to the Mage or Wizard of traditional Dungeons & Dragons style role playing games. Now, you have already known the answer of the question What is magento 's original name? Its original name is Bento. And the noticable mark was made in February 2011, when eBay announced it had invested in Magento from 2010, worth about a 49% ownership share of the company. And till June 6, 2011 eBay ownership reached 100% of Magento, next, eBay announced that Magento would join eBay's new X.Commerce initiative. Magento's CEO and co-founder Roy Rubin wrote on the blog of Magento that "Magento will continue to operate out of Los Angeles, with Yoav Kutner and me as its leaders.". Yoav Kutner left Magento in April 2012 citing the vision for Magento having changed since the time of acquisition due to high level staff changes. Magento has been moved to eBay Enterprise since that time.
4. What is Magento's market share in 2014?
Magento is the  leader platform of E-commerce  with 24.8 % of sites being attributed to the platform. About 3.8% of the sites appear to be using Magento Enterprise Edition that means that the number of corporate companies moving to the platform is increasing day by day.
All the attempts of Zen Cart, which had the largest gains and doubled its results in 2011, still didn't let it to excel Magento. It takes onlu the second place with the percentage of 16.8% . Virtuemart is the third most popular platform having 15.2%. The largest e-Commerce players are holding their positions expanding their market shares. The top three account for over 50% of stores in the survey.
The oldest member of the market, osCommerce, reach the fourth place having 10.1% of market share. It saw the largest loss last year giving way to its rivals. As  predict, osCommerce lost its leadership at the market, deceasing gradually . PrestaShop is the smallest  with 9.8% market share. So, now you have already had the answer to question What is Magento's market share right?
However, there are some e-Commerce platforms were steady growing by the end of the previous year, such as Volusion and Interprise Internet Shop with a limited users.
5. What is Magento Community, Magento Enterprise ?
Magento Community – Free version
If you have a small budget and are planning to open an e-commerce website, Magento Community version is a best choice for you. It can be set up in a very easy way and it is flexible for web developers and web designers to work with, in this way  you could customize functions and design in the way you want.
The free version also includes many useful features that can create a successful business for you such as the ability to follow up with customers by newsletter, creating discounts, promotion for customers with coupons, gifts and allowing customers to create a wish list that they can continually update. Best of all, should you need to customize certain features, or add new functionality, you can find a wide assortment of solutions that are inexpensive such as gift wrap modules, more advanced gift certificate management and even gift registries.
The investment you would make in any future development or modules will still be far less than the development of an e-commerce system from scratch. However, some company need a platform which is more powerful  and has out of the box features. This is reason why Magento Enterprise exists.
Magento Enterprise – Premium version
What is Magento Enterprise? If you have a loose budget,  and you want to get started with a professional e-commerce plaform, Magento Enterprise is a true solution for you. With $14,420/Year License, It comes with everything that Magento Community offers as well as the following advantages:
Free Professional Customer Support:Whereas the community edition does not come with professional support, only a message board, the enterprise version offers professional report for businesses and their tech support team to ensure everything runs smoothly.
Full Page Caching: For a website receiving thousands upon thousands of visits per hour, it is important to reduce load on the server including the database. This is where full page caching comes in. Imagine you visit a standard Magento page. What you see is a standard html output of that page but, in order for that page to be generated, Magento is built to communicate with the database, find the products and information to display, and display it to you in real time. The process of doing all of this takes time and, should there be many visitors, can bring a server to its knees. 

Full page caching solves this issue by storing that html data ahead of time so when people visit the website they can view the html output instantly, instead of waiting for the website to communicate with the database and process the most recent updated version of their information or product list. Through full page caching you will see remarkable savings in page load speed and server usage. Here is one demonstration that tested both the free version of Magento and Magento Enterprise.

Built In Modules: 

Modules such as private sales, wholesale, gift registries and much more come loaded with Magento Enterprise because the point of Magento Enterprise is to give you the most sophisticated sales experience that works right out of the box. To learn about Magento modules, go to

Magento extension tutorial

 series. It is designed for larger websites with big volume and is even used by companies such as Nike and Viso as seen on the Magento Enterprise home page.
So as you can see, Magento Enterprise is built for the website that expects to receive a lot of traffic and wants to get the most out of the online sales experience. From targeted sales promotions you can offer customer groups to advanced caching mechanisms that can handle a lot of concurrent visits, Magento Enterprise will work out of the box for you if you wish to take your business to another level.
What is Magento features?
Here are some of the awesome features that  we like the best:
Magento is very powerful and yet intuitive when it comes to presenting your products. You can easily create your products catalog and manage it. You can add more than one images for the same product, review the product and allow creating of wish lists. It allows catalog and product browsing, product filtering and product comparison. You can easily add new products, do batch product update, manage your inventory, easily manage orders and shipments, and integrate different payment methods.

Since Magento is an open source platform, there are many free and paid  Magento extensions  available to enhance your store's performance. You can learn to create, configure, upgrade a Magento extension at Magento extension tutorial

Magento has some great options when it comes to customer service. With Magento you grant your customers the option to create user accounts, track their shopping history, contact you through custom forms, you can also choose different languages and currencies, to fit the needs of your customers.

You can easily integrate Magento into your Google Analytics account and use all its options to analyze the customer behavior on your website and optimize it for better results. You can also use the advanced SEO options of Magento to optimize your website search engine positioning, so it can be found easier by your customers.

Magento also allows you to use many marketing promo tools – organize price promotions, use coupon codes. There are many websites out there offering beautiful Magento themes for free or paid, so you can create your unique looking online store with ease.

And if this is not enough, there are over 1.700 extensions for additional functionalities you can install via the Magento-Connect interface.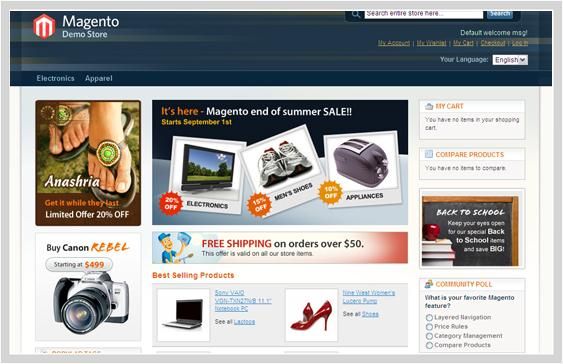 What is Magento's benefit ?
Decisions, decisions. Choosing the right ecommerce platform for your business can be an exceedingly difficult one. But today I want to focus on one of the most well-touted and widely used ecommerce systems in the world: Magento. There's a lot to know about Magento and its capabilities, but the best way to get the big picture in a nutshell is by delving into its biggest advantages. 
What is Magento certification?
Developers who pass one of the exams can use the valued Magento Certified Developer credential in marketing their services. There are two exams in the Magento Certified Developer portfolio: Developer and Developer Plus.
A Magento Certified Developer can skill fully use all business processes in Magento, such as: Structure of catalog, indexes, promotions, price generation logic Architecture of checkout, payment/shipment methods, sales/order processing Advanced core knowledge — forms/grids full functionality, API, widgets, etc. To get full answer of What is Magento certification go to Magento certification tutorial . 
Beside, if you want to practice to prepare for Magento certified developers test, you can have test free at Magento certification practice test
What is Magento provider?
There are many companies providing product related to Magento such as Magento themes, Magento extension, …. Some big provider about themes are themeforest, templatemonster, …  Magento extension, we know Magestore and others are Amasty, Aheadwork, … you can learn to create Magento theme to sell on Magento connect easily with Magento theme tutorial
Magento is changing and developing everyday, the answer of  What is Magento question may be changed too. To get up-to-date information about it, follow Magento tutorial now!
Recommend: Already know about Magento? Let's install Magento now:  #6 How to install Magento on Local host – XAMPP
—————————————————————————————————————————————-
BLACK FRIDAY SALE! 15% OFF ENTIRE STORE (until Nov 30)
Here is the library of Magento Download for FREE (all versions)
Your Magento website needs a powerful Magento ERP for stock control.
DON'T MISS THE CHANCE!