How to simplify the installation of Magento theme?
It is undeniable that putting one theme in is far from easy for Magento users. You have to take a range of steps to complete that process. The first is copy the whole necessary files into Magento folder and then create static blocks, or edit homepage, make up banner, etc. In some worse cases, you exactly keep all guided steps but the result is not as same as design.
Is there any ways to visualize the installation of Magento theme and make it become easier?
Imagine that you have a new template and you want to set up it for your own store. Before logging in backend you need to extract files into Magento folder. A guiding pop-up appears and asks you to install theme. What you have to do is choose options and click into Next button. After several manipulations of mouse clicks, the template is completely installed on your web-site with sufficient blocks, banner as the original design. That must be very fantastic.
To put into practice, we have built up a module integrated into templates. It allows you to install Magento theme as easily as installing software on Window OS. The installation process is detailed as below:
Step 1:The system asks if you want to install theme at this time or not. Click on Next to go on installing.

Step 2: With this step, you will be requested to select which theme you want to put in for your site.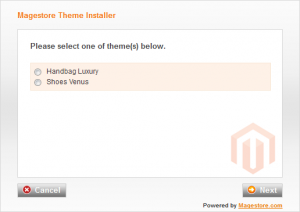 Step 3: The system asks whether or not you want to create default static blocks for template. Yes answer is suggested because this will help your website obtain fully-designed interface as our original ideas.
Step 4: The question is provided here that if you want to create the CMS page default for template or not. If you select Yes the system will continue asking you about using default Homepage. In this case, the answer Yes is also appropriated for a fulfilled design.
Step 5: For this step, you will be required to answer whether or not you want to use the default banners which are shown on Homepage.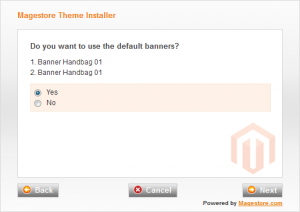 Step 6: This step allows you to install the added extensions. You are able to choose extensions which you need to use.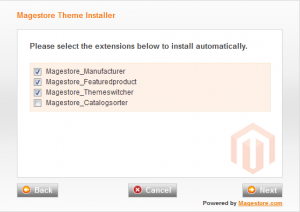 Step 7: The successful result of installation is displayed. Now, you can click Finish button to complete the process. Then, go to the frontend, you will see that this theme had been applied.
This achievement may be not the most sophisticated way but it will partly help you simplify installation process and gain a full design of template.Hope to see your comment and discusstion.
Alex
bolg.magestore.com
Here is the library of Magento Download for FREE (all versions)
Your Magento website needs a powerful Magento ERP for stock control.
DON'T MISS THE CHANCE!