The theme of your website has an important role in the success of your online business. If your theme is not appealing or is very boring, naturally it will not attract customers. Magento themes help you update the feel and look of your store according to the product and category level. This gives you more promotional and marketing power. This also will give you a uniquely designed store. Have you ever wanted to present each of your products in a customized info page? Magento enables you to do just that; it can customize your product presentation in a per category and per product basis.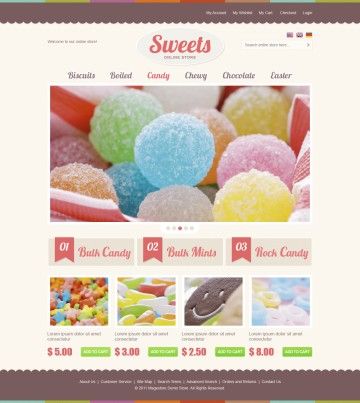 Some website owners are skeptical about using free Magento themes. They believe that you cannot find anything free in this world anymore, so when it is free, you better prepare to buy the premium ones. The free themes just won't remain intact for long. Free Magento themes are widely available on the internet, and you just need to download which theme you want to use. Contrary to some user's belief, the free Magento themes really work, they are fast, and most of all free.
Many merchants opt to use the premium Magento themes because they want their themes to be uniquely designed according to the website's content. They want the front of their online shop to look very much different from other online stores. If you are running a pet store, or an arts and photography shop, a fashion store, an automotive showroom, or a jewelry shop, the theme of your store should be designed accordingly. To establish a recognized brand you need to have an impressive and strong brand image. This will result not only in profitable sales, but also in creating successful brand image for your targeted customers.
In recent years did you notice that most online stores look similar with each other. If you browse the web on a certain category, you'll notice that some 2 or 3 websites have similar themes. The reason is because there weren't too many themes that were professionally developed. Fortunately, Magento templates providers know that Magento is a powerful solution, so today they are starting to develop professional Magento themes that you can purchase.
You can load multiple Magento themes at once. And they can be used not only in building a new online store, but in redesigning your existing website.Your Magento theme should be featured uniquely, and this is easy to do with the help of an experienced Magento developer. Choose a reliable and trustworthy company that offers their services that you can't get from the free Magento themes.
Magento themes make customers stay in your website; they increase your conversion rates when visitors turn to become potential buyers or customers. Magento themes also offer an enriching shopping experience for your customers. When it comes to development of your online store, the Magento themes are the great solutions. Each theme consists of locale and/or skin file(s) and layout templates, and they are compatible with Magento e-Commerce applications.
Source: sooperarticles.com
Here is the library of Magento Download for FREE (all versions)
Your Magento website needs a powerful Magento ERP for stock control.
DON'T MISS THE CHANCE!