Magento is always the top-notch E-commerce website platform, with something user-friendly in the backend. And when you are not satisfied with the default backend, it is time for extension developers to shine. For a long time, people who use Magento platform will choose the solution of Magento modules to manage and control stock and inventory. In the pros side, Magento modules are native, easy to customize and one-time payment than other subscription model ERP system. Today, we will compare Boostmyshop vs Magestore in the battle of their Embedded ERP.
Although each Magento ERP has its own unique features, you just need to know the core functions and the interface of each module. This post is our own experience with both ERP system without reading any user guide. That's why we highly recommend you to contact their sales (or book demo) before taking a decision.
Magestore vs Boostmyshop – Magento ERP
The functions of Magestore Magento ERP are enormous. The starter pack of their Magento ERP is a combination of both Web POS and Stock Control. Magestore Web POS interface is stunning, and the function is making Web POS one of the best Point of sales extension for only Magento. For more reasons to go for Web POS, you can read this Magento POS comparison.
Inventory Management and Multi warehouses functions
All image sources below belong to Magestore
One of the unique features of Magestore Inventory Management module is how you can both control the stock in your warehouse as well as non-warehouse products (the products without warehouse information). Let's imagine you control several warehouses and you have a number of goods which is waiting outside the warehouse. You need to check the status of each warehouse before deciding. Magestore Inventory Management in Magento ERP automatically put all those goods in a Non-warehouse Products Section for you. Convenient, right?
We are in love with the feature of Supply Needs Forecast in Magento ERP of Magestore. You can know how many products Qty you need to re-stock for the last quarter of this year! Based on sales history, this module can predict the availability days of each product as well as the re-ordering Qty. for a future period time. This helps you reduce a lot of wasted time in Magento stock control.
Besides, their Inventory Management also has necessary features such as:
Quantity Adjustment – In stock control, you cannot keep the data accuracy in practice and in the record all the time. Stock Quantity Adjustment feature is the key to this problem. It takes you only some minutes fix all differences by selecting products and entering adequate Qty.
Stock-taking Process. Inventory management software allows you to double-check and set correct inventory quantity according to real amount in your physical warehouses. After stock-taking, a difference list will be offered and admin can adjust the stock to fix all inaccuracies in each product.
Low stock alert. Inventory management module can automatically figure out the product Qty, suggest which products will soon run out of stock and display notifications in dashboard or emails. Admin is able to manually set rules based on Availability Qty threshold and choose to apply rules on all products or some selected products.
Multi-warehouse management is pretty basic, allows you to create unlimited multi stock locations. You can add, view, edit or delete a warehouse by yourself. Each warehouse is provided with a lot of information to manage.
Stock Movements: Complicated stock movements in multi-warehouse businesses is now simplified with only 2 actions: Send Stock and Request Stock. It auto increases or decreases the Qty. on hand in each warehouse instantly corresponding to any requesting or sending of stock created. You can easily & conveniently make stock transfer whenever a warehouse is out of stock while others are not.
Apart from transferring stock among multi-warehouses, users can send or request stock between a specific warehouse and external. This feature can help in case one warehouse is running out of stock.
Barcode Management function
In Magento ERP, the barcode management is an independent function. Barcode Listing includes buttons to many barcode operations such as Import barcode, Generate barcode, Print barcode and View barcode details. Each barcode is shown with brief information on SKU, Supplier and Purchased Time.
Purchase Order function
This function is similar to other Purchase Order modules, with 4 basic statuses as New, Pending, Process and Completed. There are also 2 ways to create new purchase orders: Manually and Convert from quotations.
It is much easier to find a quotation because you are allowed to search, filter and sort the list of quotations on one or multiple conditions. There are 5 ways to add/update products in a quotation: manually from all suppliers' products, from low stock product list, from supplier needs product list, from back order product list and via a CSV or XML file.
Then you can easily convert the Quotation into Purchase Order. This is the best competitive edge of Magestore module, especially in Magestore vs Boostmyshop battle. In Boostmyshop or other Purchase Order modules, you need to copy the data of the quotation to purchase orders.
There are 4 steps of controlling a purchase order. The system will show steps and current step of a purchase order to help you manage it better. In our opinion, this feature is optional, which is not as visible as in other Purchase order modules.
All received, refunded and transferred products are managed in a single page. Related operations are very simple. You can complete or cancel purchase orders at any time but you should notice that: After the order is canceled, you can not receive, refund products or complete it. Some may find it useful, some may not.
Dropship and Order Fulfillment functions
These functions are only available in the ultimate pack of Magento ERP. Dropship function comes with 3-step Magento Dropshipping Process like that:
Magestore also improve their Dropship module from other competitors with feature of Email tracking. After a step is completed, there will be an email automatically sent to admin/suppliers. At this time, they provide 6 default notification emails for the Dropship process.
Order fulfillment comes with 5 standard steps for the fastest order processing "Verify – Fulfill – Pick – Pack – Ship". Note that Embedded ERP of Boostmyshop also consists of 5 steps but the name is not the same.
Reward Points and Loyalty Programs function
Many businesses are now relying on Magestore Reward Points extension. In our best review, Magestore provides the best Magento Reward Points in the marketplace, and should you are a fan of Reward Points or similar Loyalty Programs like Gift cards or Store credit, you may want a package of Magestore Magento ERP.
Reward Points system enables your customers to earn points after placing orders at your store. You can flexibly set up the condition for Customers to get points each time they purchase by changing Money Spent For Orders and Earning Point(s), for example, "1 point for every $10 spent".
And this is the frontend your customers are able to do. They can move the slide forwards or backwards or click on the Minus or Plus icons.
The final conclusion of Magestore vs Boostmyshop
So in conclusion, why you should choose Magento ERP of Magestore:
You have both online and offline stores and need a powerful POS software for Magento.
You need a stable, yet having creative features like Non-warehouse Products Section or Supply Need Forecast.
You manage your products mainly through barcode.
You are tired of entering data for purchase orders.
You need Email Tracking in Dropshipping process.
You are truly a fan of Reward Points.
You love to pay for the features you want rather than extra cost for unused features. Magento ERP is a package of Magento extensions so you can easily choose which you want. The basic package starts at $359.
Free 1-year support.
Boostmyshop vs Magestore – Embedded ERP
Embedded ERP is the reason why people search for Magento ERP. Instead of a full ERP system with HR and accounting features, Boostmyshop Embedded ERP is basically a combination of stock management and order fulfillment system. However, we have a lot of Embedded ERP's alternatives.
Inventory Management and Multi warehouses functions
All image sources below belong to Boostmyshop
These functions are the core functions of Embedded ERP. You can create an infinite number of physical or virtual deposits. Each submission is assigned a function as to whether the products associated with it are salable, deliverables, requiring changes…
Instead, Embedded ERP has a function "Router" which assigns a deposit the proceeds from a sales order. You can create rules (Choosing a favorite warehouse, Depending on the level of stock available …) to automate the distribution (routing) of customer orders. Combining with RMA extension, you can check Stock Defective Products.
Embedded ERP has an unique feature called Stocks Levels. You can assign four levels of specific stock in Embedded ERP for each product. In our opinion, this feature is required when you have multi-level products, but remember you only have 4 levels at all.
Barcode Management function
Barcode Management is not an independent module, you can use barcode reader in both Purchase and Order Preparation functions of Embedded ERP.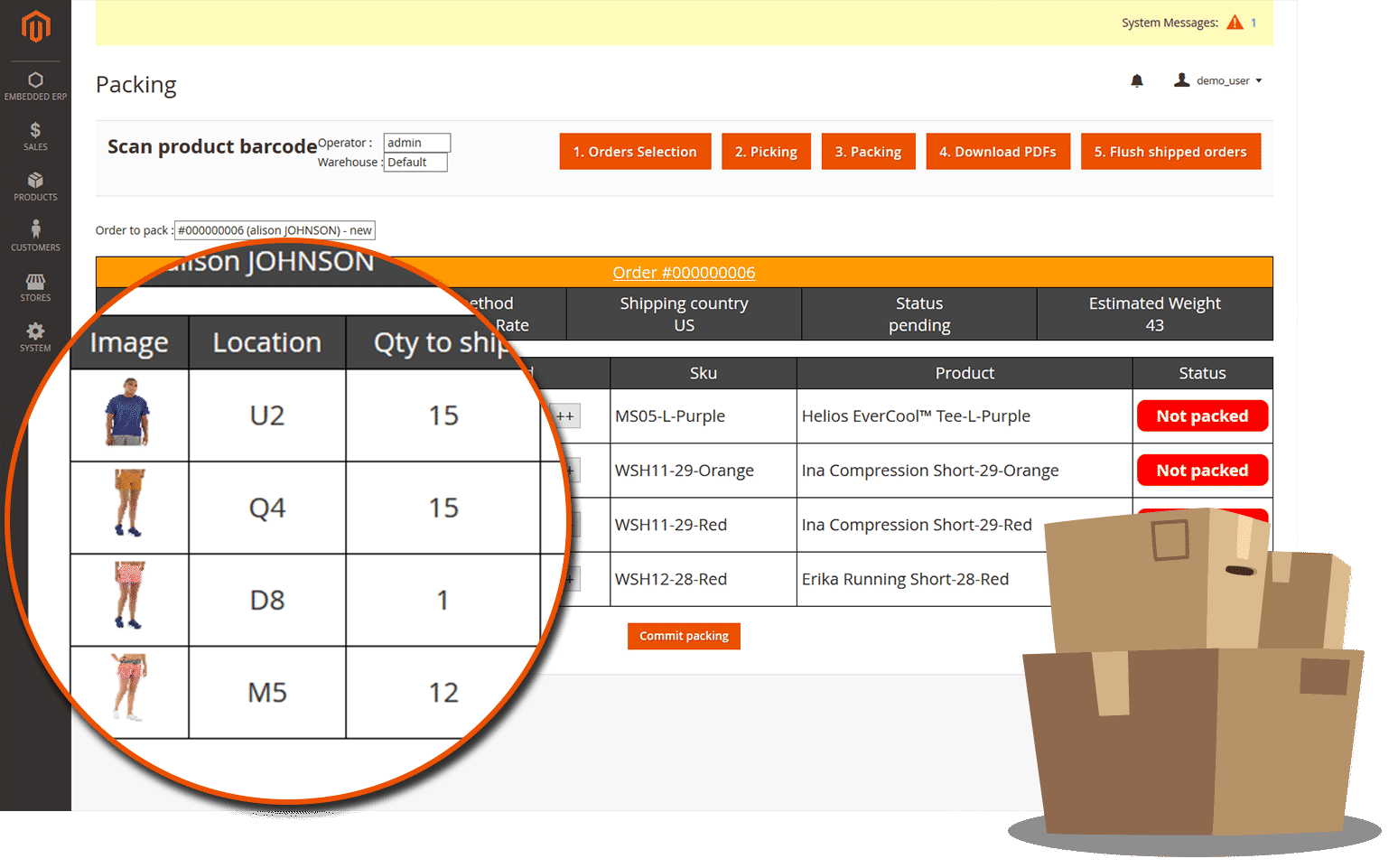 Purchase Order function
You can create your supplier base in Embedded ERP. Fields available for the identification of Supplier:
– Name
– Address
– email (for sending orders and requests for quotations)
– Delivery time (default)
– Currency (default)
– Tax (%)
– Discount (%)
Further information available from the Management tab
– Minimum Order
– Franco threshold Port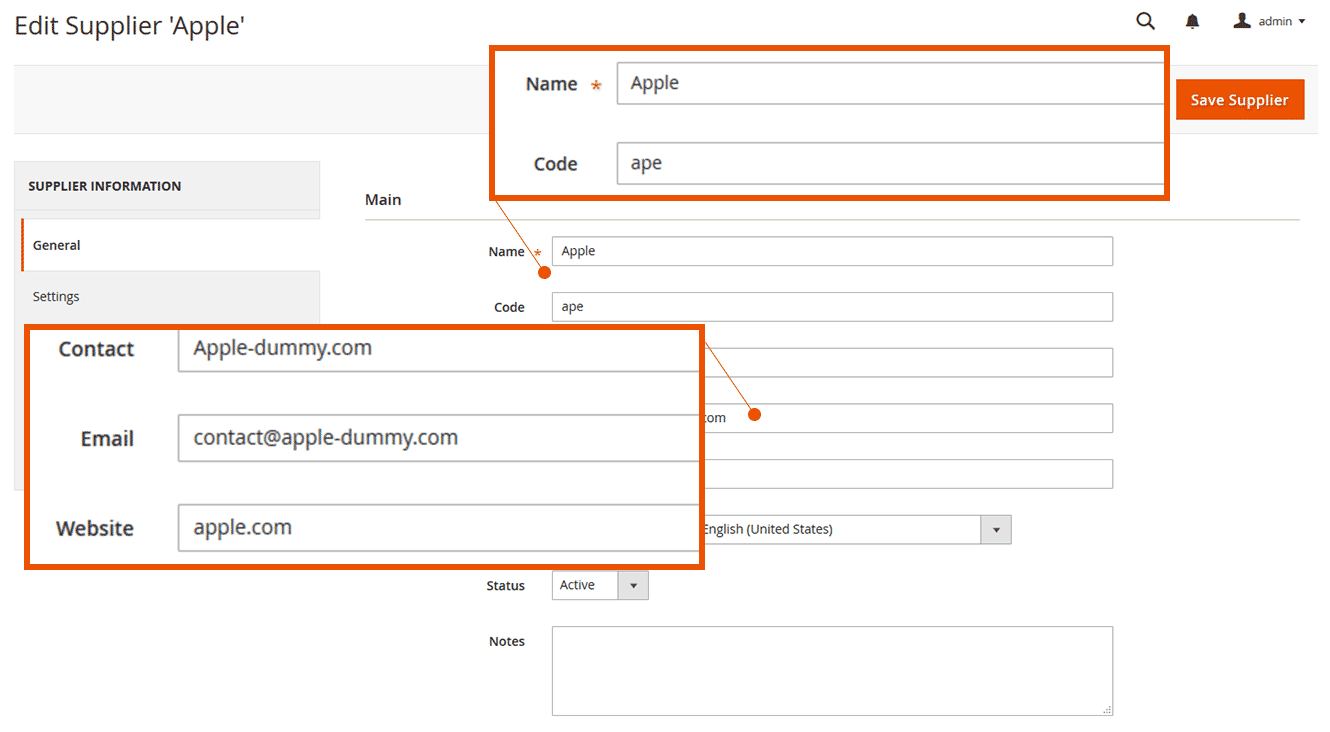 A purchase order can be created from the Supply Needs screen. Available field for a Purchase Order:
– Currency, Tax Rate, Exchange Rate
– Unit price
– Quantity, Packing
– Shipping cost
– Forward-Looking Date of Delivery
– Reference Order Supplier
Products can be added to the order manually, from the supply need screen or importing an external file.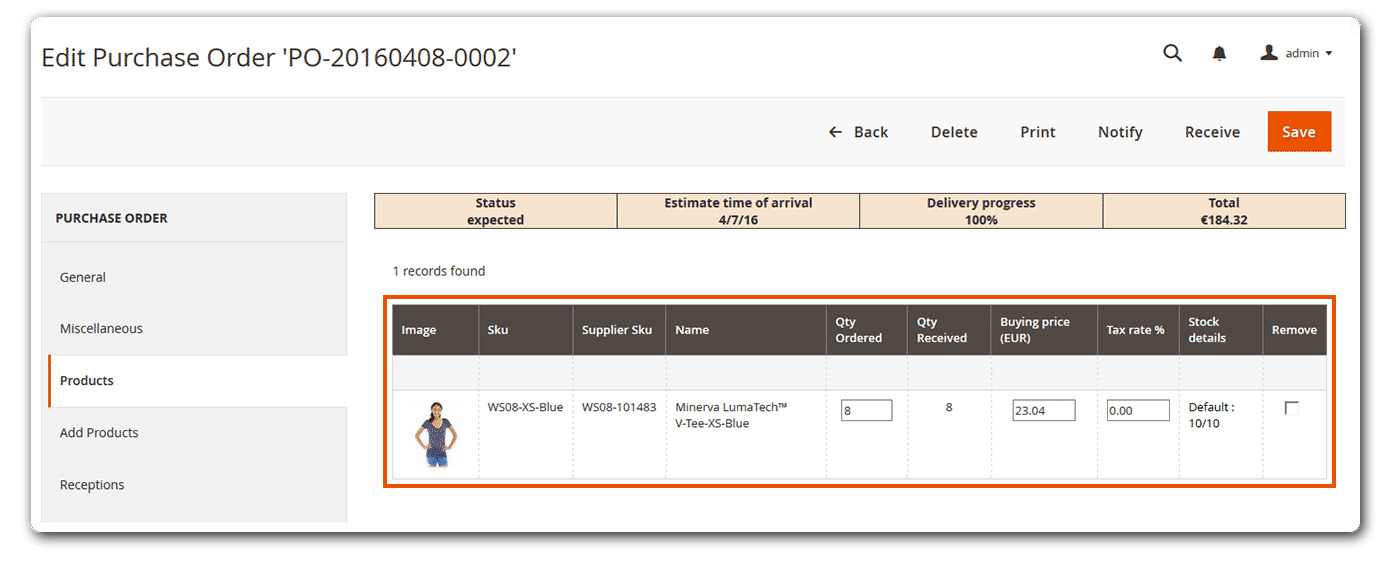 Order Preparation function
Boostmyshop called their Order fulfillment as Order Preparation function. Customize the Embedded ERP order processing tool based on the number of commands to prepare or the number of warehouses you have. The following processes can be realized by mass (Batch Treatment) or command by command (Processing Unit)
– Selection and preparation of orders
– Generating and printing delivery notes, invoices, preparation
– Printing packing list
– Enveloping via bar
code Reading
– Impressions of carrier labels
– Shipping Notification customers by email, sending the tracking number (Tracking)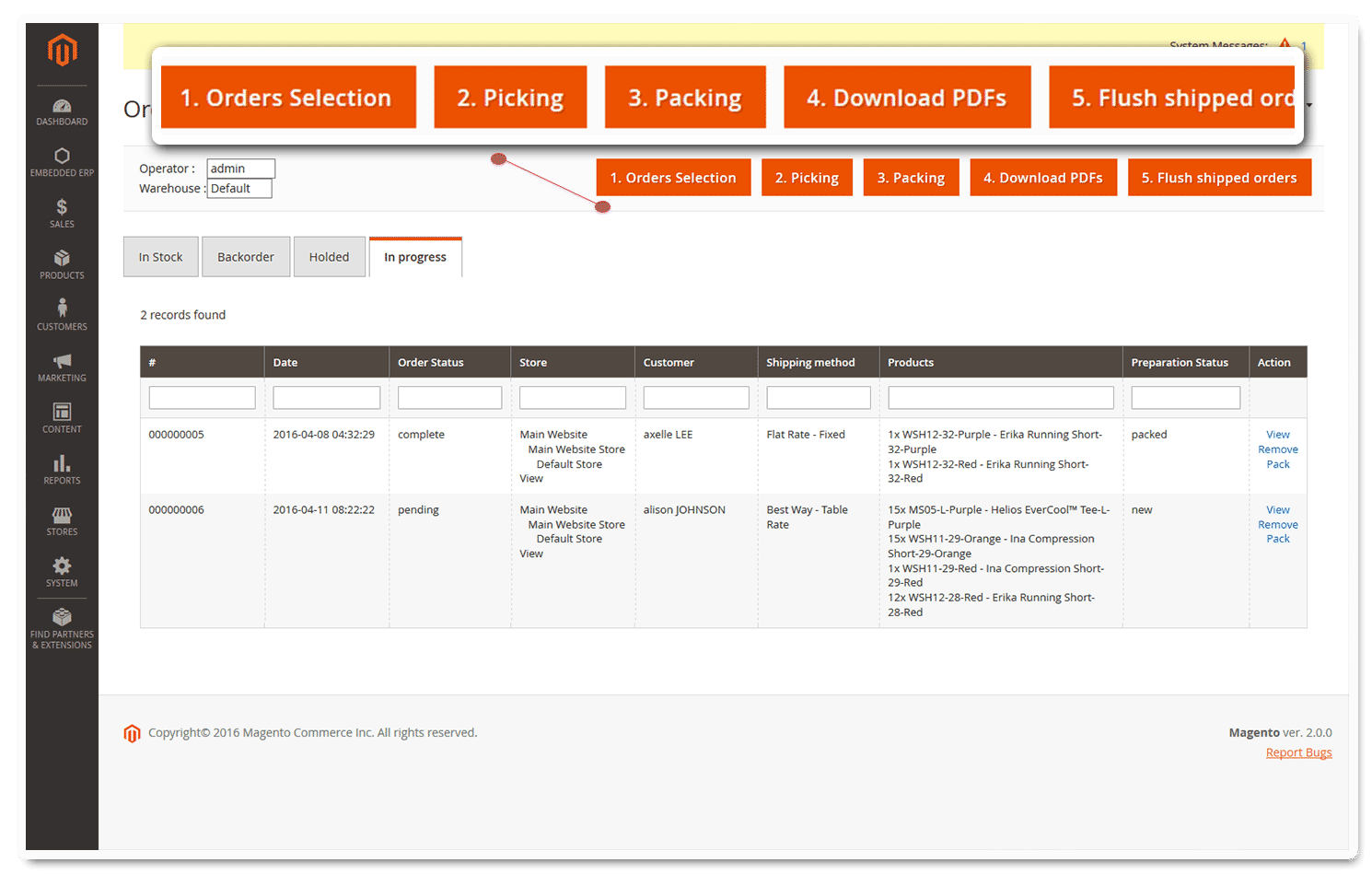 So what is the reason to think about Boostmyshop?
The cost is slightly less, without POS and dropship functions. So if you don't need these two functions, take this.
You are a loyal fan of Embedded ERP
Free 6-month support for Magento 2, 3-month for Magento 1.
You love online training.
Here is the library of Magento Download for FREE (all versions)
Your Magento website needs a powerful Magento ERP for stock control.
DON'T MISS THE CHANCE!